IWW Meetings
DENVER–BOULDER GENERAL MEMBERSHIP BRANCH
Tuesday, May 6, 2014
7:00 p.m.
Plaza Aztlan / Sisters of Color United for Education
2895 W. 8th Avenue (downstairs), Denver, CO 80204
Watch this space each month for meeting notices
or
Browse the Events Calendar on the IWW website
or
Contact us here
Denver Ludlow Centenary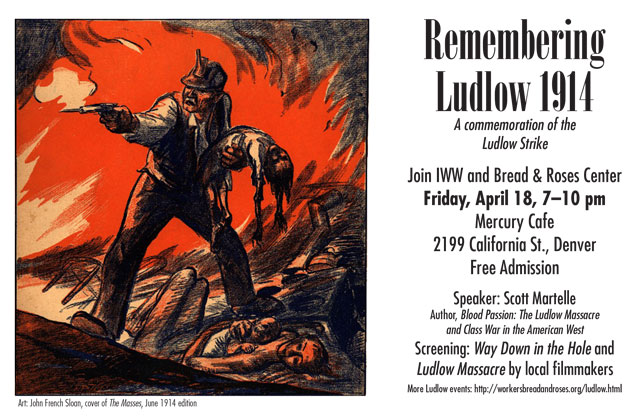 Download the double-sided half-page flyer here (also Spanish version). See more events here.
April 20, 2014 is the hundredth anniversary of the Ludlow Massacre. We will mark the centenary on April 18 with:
Friday, April 18, 2014
Mercury Cafe – Jungle Room
2199 California St., Denver
7:00 – 10:00 p.m.
Free Admission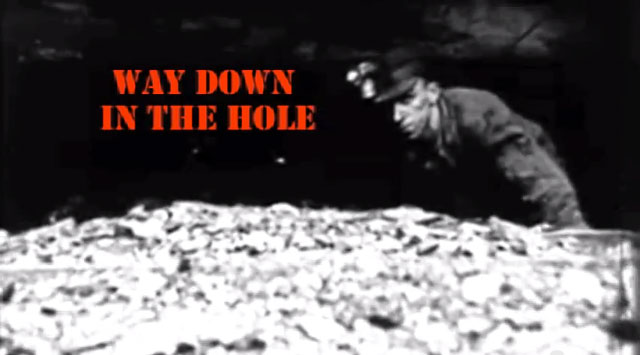 Way Down In the Hole, a documentary directed by Alex Johnston: An army attempts to crush the resilience of Colorado coal miners who, by the thousands, have dared to take any means necessary to protect their strike and their dignity. This recent and timely film tells the story with documents, interviews, song, and imagery.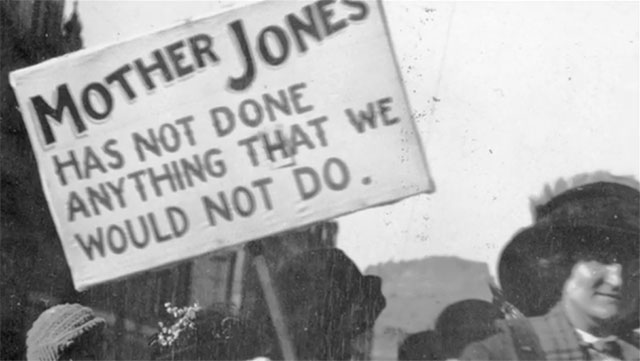 Ludlow Massacre, a documentary directed by Julie Speer. With the control of much of Colorado's coal mines in the hands of just a few companies, miners grew increasingly intolerant of low wages and dangerous working conditions. Over the next few months, tensions escalated as the striking miners ransacked several mines. The dispute culminated in a violent clash on April 20, 1914.
Joe Hill Lives…
JOE HILL FESTIVAL
In August 2011, we held a successful Tribute to Joe Hill featuring a concert by John McCutcheon, with local folk artist Elena Klaver, and also featuring films, poetry and song.
The tribute coincided with the release of a new book by our good friend, and Denver author, Bill Adler that rips open the case against Joe and presents the whole IWW history of the period between the founding of the union in 1905 and Joe's execution in 1915, and more, and does so excellently. See the official book website.
Follow the book on Facebook
Bill Adler embarked on a book-signing tour of Washington DC, New York, Brooklyn, Detroit, Ann Arbor, Madison, Minneapolis, Missoula (x2), Portland (x2), Seattle (x2), Rossland BC, Eugene, Park City and Salt Lake City, Berkeley, San Francisco, Corte Madera, San Pedro, La Jolla, Venice CA, Claremont, Tucson, Austin, and more. It's all listed on the book website.
Our activities at Bread and Roses Workers's Cultural Center kicked off what will be several years of activity around Joe leading up to the centennial anniversary of his death in 2015. We may have lined up a major promoter and thereby a major concert to go along with films, documentaries, perhaps a musical play, poetry and the book signing. We will need a great deal of help on this, especially publicity/media and outreach, and this may be an opportunity to raise significant funds to develop Bread and Roses projects in Joe's memory. This could be a corner-turner in making our Center a force for working class self-activity and -development: join in! Contact us here.
For more information about Joe Hill, see our
Joe Hill "Little Red Sourcebook"