April 20, 2014 was the hundredth anniversary of the Ludlow Massacre. Commemorative events, listed below are scheduled around the state.



Extra! Extra! At left, UMWA coal miners (not pictured) and their sons pose holding Trinidad Free Press newspapers covering the strike against Colorado Fuel and Iron Company in Ludlow. Headlines read:
Charges Hatched by the Military Officers
"Mother" Jones Sent to Denver During Night
Owners Stole Public Lands from Colorado
September 2014
Sep 11–28 – Ludlow, 1914, a play created by Brian Freeland and the LIDA Project, performed at TheatreWorks in Colorado Springs
Ongoing
March 2014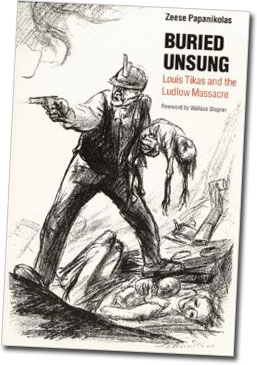 Louis Tikas, a Greek immigrant, was a key organizer of the Ludlow strike camp. Above, the cover of Buried Unsung: Louis Tikas and the Ludlow Massacre by Zeese Papanikolas. The illustration is based on a work by John French Sloan produced for The Masses.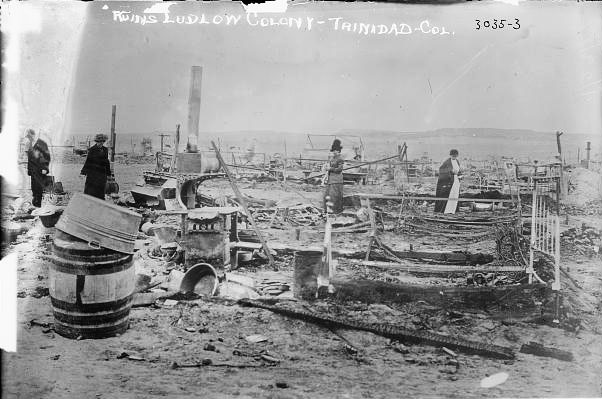 Photo shows ruins in the aftermath of the Ludlow Massacre, during which a tent camp of striking miners at Ludlow, Colorado was attacked by the Colorado National Guard on April 20, 1914. (Photo: Bain News Service via Library of Congress)
April 2014
It was early springtime when the strike was on,
They drove us miners out of doors,
Out from the houses that the Company owned,
We moved into tents at old Ludlow.
I was worried bad about my children,
Soldiers guarding the railroad bridge,
Every once in a while a bullet would fly,
Kick up gravel under my feet
We were so afraid they would kill our children,
We dug us a cave that was seven foot deep,
Carried our young ones and pregnant women
Down inside the cave to sleep…
— Opening stanzas of "Ludlow Massacre"
by Woody Guthrie
May 2014
See Also
CSU-Pueblo events are collected in this flyer
Many Ludlow Centennial Commemoration events are collected in this flyer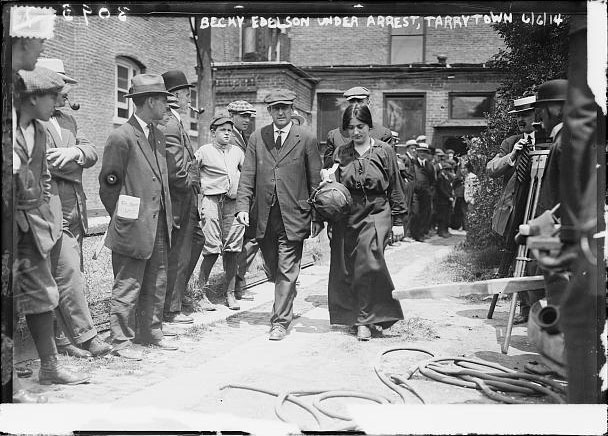 Photograph shows Rebecca Edelsohn (c. 1889 or 1892–1973) after her arrest for attempting to hold an open air mass meeting in Fountain Square, Tarrytown, New York on May 30, without a permit. Edelsohn and fellow I.W.W. members were protesting labor violence in Ludlow, Colorado and went to Tarrytown to denounce John D. Rockefeller, Jr. (Photo: Bain News Service via Library of Congress)